Bimbofication is a term that describes the process of transforming oneself into a "bimbo" or "dumb blonde" archetype. This can include changes in clothing, makeup, mannerisms, and speech patterns to fit into a certain societal standard of beauty and sexuality. In recent years, there has been an increased interest in bimbofication, particularly among GenZ individuals.
Want to be trained as a bimbo by an experienced Dom in a safe and kink-positive environment? – Apply now.
Bimbofication – Trends in recent years
The rise of social media and the hyper-sexualization of certain archetypes of women, particularly that of the "dumb blonde," has played a significant role in this newly formed interest. The bimbo archetype is often portrayed as a sexually desirable object, and many people may feel pressured to conform to this standard to be seen as attractive or desirable. The "Girlboss" movement, which emphasizes the importance of women being strong, independent, and successful in their careers, has been a popular trend in recent years. However, a growing anti-"Girlboss" movement has driven the interest in bimbofication. This movement is a reaction to the pressure women face to be perfect and conform to societal standards of beauty and success. Instead, it encourages women to embrace their femininity and sexuality and to use it as a form of empowerment. This movement is often seen as a form of resistance against the societal expectation that women must be serious, ambitious, and career-focused to succeed.
Some see Bimbofication as a way to reject the traditional "Girlboss" stereotype and embrace a more sexually-empowered and feminine identity. Additionally, some people may view bimbofication as a form of attention-seeking or a way to express their own sexual positivity and femininity. However, it's important to note that this practice is often met with controversy and criticism, as it is seen by many as a form of objectification and degradation of women. Some of the most common elements often seen in the bimbo archetype:
Blond Hair: Often dyed or highlighted to achieve a platinum or golden shade.
Large Breasts: Frequently achieved through breast augmentation surgery.
Plump Lips: Usually enhanced through lip fillers or makeup.
High Heels: Stiletto heels are a staple to emphasize leg length and posture.
Skimpy Outfits: Such as short skirts, low-cut tops, and revealing dresses.
Heavy Makeup: Particularly focused on eye and lip enhancement, often with bright colors.
Nail Extensions: Long, often brightly colored or intricately designed.
Tan or Bronzed Skin: Either from tanning beds or makeup.
Tight-fitting Clothing: To accentuate curves and physical features.
Jewelry: Usually flashy, like large hoop earrings, bangles, and multiple rings.
Submissive Behavior: In the context of BDSM, often acting in a submissive manner to a dominant partner or to men in general.
High-pitched Voice: An exaggerated feminine tone or speaking style.
Overly Sexualized Mannerisms: Such as a provocative walk or excessively flirtatious behavior.
Feminine Accessories: Like purses, hairbands, and feminine-patterned fabrics (e.g., floral, pink colors).
Exaggerated Eyelashes: Achieved through false eyelashes or extensions.
Body Contouring: Through makeup or surgery to further emphasize curves.
Facial Plastic Surgery: Procedures like rhinoplasty to fit a certain beauty standard.
Visible Labels: Wearing clothing that prominently features fashion or 'sexy' brand names.
Tattoos or Body Art: Sometimes related to sexual or feminine themes.
Girlish or 'Ditzy' Behavior: Acting in a manner stereotypically considered less intellectual or naive.
Historical context and origin of bimbofication
Although the concept of bimbofication has gained prominence in recent years, it is not entirely new. The archetype of the "dumb blonde" or the "bimbo" can be traced back to the films, literature, and popular culture of the early 20th century and is still present today. The latest Barbie movie in particular has also led to a rapid rise in the trend. It can be traced back to the early twentieth century. The era of Marilyn Monroe, for example, saw a growing fascination with the blonde bombshell, a woman who was sexually desirable but not particularly intelligent in public. The term "bimbo" itself originated in Italian, meaning boy or child, and later came to refer to an attractive but unintelligent or frivolous woman. In the late 20th and early 21st centuries, the Internet and online BDSM communities contributed significantly to the rise of bimbofication as a specific kink or fetish. The advent of social media platforms has given this subculture a space to grow, share experiences, and even commercialize aspects of the practice, such as selling bimbofication instructions or hypnosis tapes.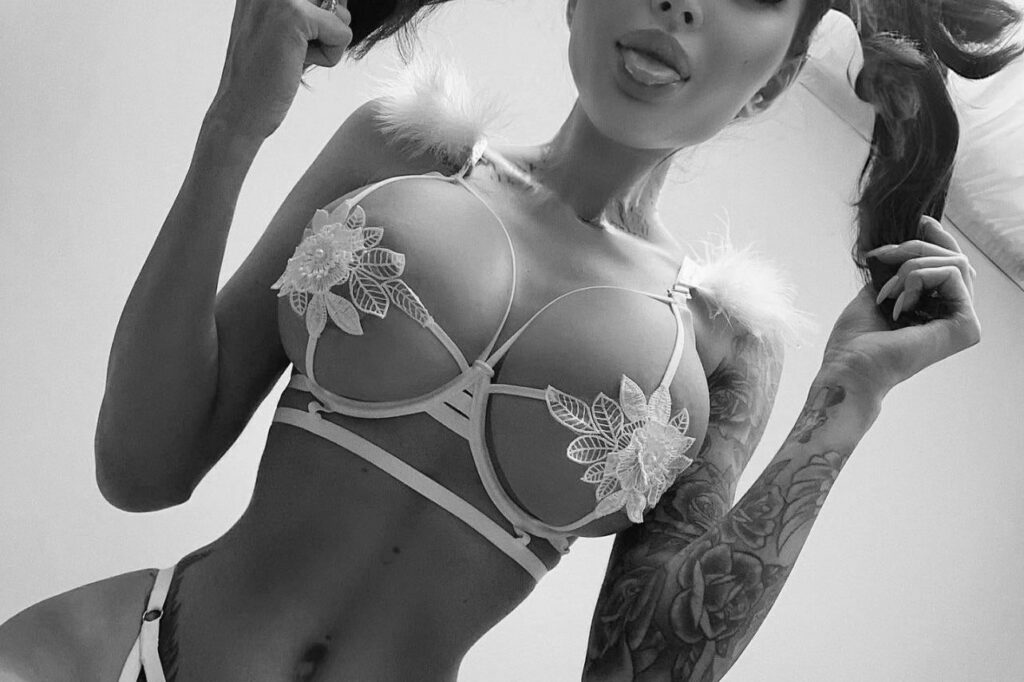 Meaning of bimbofication in various contexts
"Bimbofication" is a term often used in BDSM communities and erotic fiction to describe a transformation process in which a person, usually a woman, is trained and transformed into a "bimbo". This term has its roots in eroticism and pornography and is not widely accepted or used because of its often demeaning connotations. The stereotype of a "bimbo" is typically a woman who is highly sexual and physically attractive, usually with exaggerated feminine features, and who is often described as less intelligent or overly submissive. Bimbofication fantasies often revolve around these stereotypes and may involve physical changes (e.g. cosmetic surgery, clothing, make-up), behavioural changes (e.g. speech patterns or submissive behaviour) and mental changes (often associated with a reduced focus on intellectual activities).
In the context of BDSM, bimbofication can fall under the category of 'dominance and submission', whereby the person being transformed ('bimbo') is submissive to the person directing the transformation (dominant). This dynamic can involve aspects of humiliation, objectification and control and, like all BDSM activities, should always be consensual, safe, reasonable and risk aware.
However, this concept can be problematic, especially from a social perspective or in public opinion. The term 'bimbo' is often used pejoratively to disparage women for their appearance or intellect, reinforcing harmful stereotypes. Bimbofication as a fantasy or kink can be seen as promoting sexist ideals that objectify women and devalue their intelligence. It is important to remember that fantasies, role-playing or BDSM activities should never justify sexism, objectification or non-consensual behaviour. Finally, people involved in such activities need to understand the difference between fantasy and reality. Even if someone agrees to be objectified in a BDSM scene, it does not mean that he or she agrees to be objectified in his or her everyday life. In the same way, enjoying a bimbo fantasy does not mean that someone agrees with sexist stereotypes or the degradation of women. As always, open communication, respect, consent and an understanding of the difference between fantasy and reality are crucial.
Criticism on Bimbofication
Bimbofication has been met with significant criticism from many people, who see it as a form of objectification and degradation of women. Critics argue that the practice perpetuates harmful stereotypes about women being sexual objects and reinforces societal expectations that women should be submissive and sexually available. The practice has also been criticized for promoting unrealistic and unhealthy beauty standards, which can harm people's self-esteem and mental health. Additionally, many people view bimbofication as a form of self-degradation, in which individuals are willing to compromise their own self-worth and dignity in order to fit into certain societal standards of beauty and sexuality. Overall, the criticism of bimbofication highlights the need to consider the impact on one's mental and emotional well-being before engaging in the practice, and to be aware of the potential risks and drawbacks.
The appeal of bimbofication in BDSM
In the context of BDSM, bimbofication can be seen as a form of role-playing and a way to explore different power dynamics. The bimbo archetype is often associated with submissiveness and a lack of intelligence, which can appeal to individuals who enjoy dominant-submissive sexual relationships. Additionally, some people may find the aesthetic appeal of the bimbo archetype to be an essential part of their BDSM experience. Another aspect that drives the appeal of bimbofication in BDSM is the exploration of different identities. Many people enjoy experimenting with different roles and personas, and bimbofication allows them to tap into an other aspect of themselves that they may not be able to express in their everyday lives. It can be a form of self-expression and a way to explore one's own sexuality in a safe and consensual environment. It's important to note that, as with any BDSM activity, clear boundaries and rules must be established, and the person involved must feel comfortable and consent to the activity. It's also important to be aware of the potential risks and drawbacks and to consider the impact on one's mental and emotional well-being before engaging in bimbofication practices.
Excursion: Bimbofication Hypnosis
Bimbofication hypnosis is a sub-genre of BDSM that involves using hypnosis to induce a bimbo-like state in the person being hypnotized. This can include behavior, speech, and personality changes to align with the bimbo archetype. The person performing the hypnosis is typically the dominant partner, while the person being hypnotized is the submissive partner. Some people find this practice appealing because it allows them to explore different identities and roles within the context of BDSM. Hypnosis is usually done with proven tactics like autosuggestion, repetition, changing of the state of mind or other forms like extensive exposure, forced watching of videos etc. However, it's important to note that hypnosis can be a controversial and potentially dangerous activity, and it's essential to engage in it responsibly and with the guidance of a qualified professional.
Psychological aspects of bimbofication
Understanding the psychological aspects of bimbofication can help you figure out why people get involved in this particular form of role play or BDSM. Although on the surface it may seem like it's just about sex, the motivations can be much more nuanced and it can stem from many fetishes and preferences. Participants may experience a sense of empowerment, liberation, or even catharsis when engaging in the bimbo archetype. For some, it can be a way to break free from societal expectations that dictate how one should behave, think, or speak. On the other hand, dominants may derive psychological satisfaction from controlling and transforming their partner into this archetype.
Psychological research suggests that role-playing can be a form of escapism that allows people to explore parts of themselves that they cannot otherwise freely express – or parts that are repressed. The controlled environment, where boundaries are discussed and consent is explicitly given, provides a sense of safety for exploration, also the controlled environment can be a Dominant Partner who animates and drives one and then experiences sexual gratification from this and this results in a positive feedback loop. However, it is important to remember that the psychological impact may vary from person to person, as with any kink or fetish. Some find bimbofication humiliating or degrading, especially if they feel forced or pressured into it, so it can also be used as a punishment in the BDSM world (Especially for men). Therefore, ongoing communication and regular mental reviews between participants are important to ensure that the practice remains a healthy form of sexual expression.
Different dynamics in bimbofication
Bimbofication can take various forms and dynamics, depending on the individuals involved and their specific interests. Some of the most common dynamics include:
Dominant/submissive

: This is the most common dynamic in bimbofication, where one person takes on the role of the bimbo and is submissive to the other person, the dominant partner. This dynamic can involve various forms of submission, such as obedience, servitude, and sexual submission.

Master/slave

: This dynamic is similar to the dominant/submissive dynamic but with a more pronounced emphasis on power and control. The master/slave dynamic can involve a wide range of activities, from domestic service to sexual submission and usually has a dynamic like 

24/7 or TPE

. 

Age-play

: This dynamic involves one person taking on the role of a younger or more innocent person and the other person taking on the part of an older or more experienced person. This dynamic can include elements of bimbofication, with the younger person taking on the role of a bimbo and the older person taking on the role of the mentor or guide to form her and teach her how to become a perfect sex symbol for men.
Risks and Considerations before engaging in bimbofication
Bimbofication, like any BDSM activity, carries certain risks and considerations that should be taken into account before engaging in the practice. Some of the most critical risks and concerns include:
Objectification and degradation

: Bimbofication can be seen as a form of objectification, where the person taking on the role of the bimbo is reduced to a sexual object rather than a human being. This can be degrading and can harm the person's self-esteem and self-worth.

Impact on mental and emotional well-being

: Engaging in bimbofication can harm mental and emotional well-being, particularly if the person feels uncomfortable or coerced into the role. It's essential to be aware of one's own limits and to have open and honest communication with partners about what feels comfortable and what doesn't.

Implications on private & professional life: Bimbofication can have a consequence on the private life and career. Often Bimbos need to change careers, lose their social connection and also create friction with friends and family in the process of bimbofication. This needs to be considered before engaging in a full bimbofication.

Importance of consent and communication

: As with any BDSM activity, consent and communication are crucial for bimbofication. Establishing clear boundaries and rules and checking in frequently with partners is essential to ensure that everyone is comfortable and on the same page.
Ethical Considerations in Bimbofication
Bimbofication is an ethical balancing act. Primarily because it often involves objectification and perpetuates certain societal stereotypes about gender roles and intelligence. This also often triggers feminists. It is important that participants approach it with sensitivity, awareness, and most importantly, consent. Practices that should be normal in BDSM such as a basic consensus and agreement with the partner are also important in bimbofication. In addition, participants should be aware of the broader social implications of bimbofication. Even though it is a consensual and pleasurable activity between adults, it can unintentionally reinforce harmful stereotypes if not handled responsibly.
Both partners must recognize the difference between role-playing in a controlled environment and real-life objectification or misogyny. Participants must also avoid using the "fantasy" aspect to justify or normalize non-consensual or harmful behavior, as this could also result in negative psychological consequences. Also, the partners should understand that bimbofication, which is also visible in everyday life, can also have an impact on the environment, work, family and friends. This should be done consciously and not lightly.
Conclusion on Bimbofication
Bimbofication can be an exciting and satisfying BDSM activity for those who are interested in it, but it's important to engage in it responsibly and with mutual consent. It's essential to be aware of the risks and to take steps to minimize them through open and honest communication, consent, and mutual understanding. Ultimately, it's up to each individual to decide if bimbofication is something they want to explore in various forms and dynamics, including dominant/submissive, master/slave, and age-play, and to do so in a safe, sane and consensual way.