When people hear the term BDSM, they often think of leather-clad figures and dark dungeons from movies and literature. However, beneath the surface of these stereotypes lies a complex world of pleasure and consensual power exchange that many find encouraging and fulfilling. BDSM is an umbrella term for a variety of practices that include bondage, discipline, dominance, submission, sadism, and masochism. Together, these elements form a multifaceted landscape of human sexuality that is as diverse as it is misunderstood and often also falls in a niche.
To demystify BDSM, it is important to explore not only the physical acts, but also the deep trust and communication required between partners. In this article, we'll delve into the meaning behind the acronym, the myriad practices it encompasses, the profound symbols, and the vibrant culture that surrounds BDSM. So let's lace up our corsets (metaphorically speaking) and venture into the complicated world of BDSM.
This introduction lays the groundwork for an enlightening journey through BDSM and promises to dispel myths and bring to light the nuanced reality of this often underrepresented community.
Understanding BDSM and the meaning
Definition of BDSM
BDSM is a compound acronym that stands for Bondage and Discipline (BD), Dominance and Submission (DS), and Sadism and Masochism (SM). This set of interpersonal dynamics, practices, and rituals is based on the consensual exchange of power and intensity in various sexual and non-sexual contexts.
The components of the acronym quickly explained so it gets easier to understand:
Bondage: The art of restricting movement, often with ropes, handcuffs, or shackles.
Discipline: a set of rules and punishments agreed upon by consensual partners.
Dominance: one partner assumes a controlling role during the interaction.
Submission: one partner willingly cedes control to the other.
Sadism: pleasure that results from inflicting pain or humiliation.
Masochism: pleasure that results from receiving pain or humiliation.
A brief history of BDSM
BDSM-like practices have been documented for millennia, with ancient art and texts indicating forms of consensual power exchange. The modern term and its associated community have evolved considerably, especially since the sexual revolution of the 1960s and the subsequent growth of advocacy and educational organizations.
The BDSM symbol and its meaning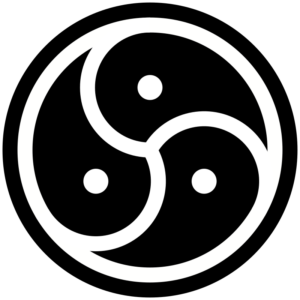 The BDSM symbol (Actually the Celtic Symbol Triskelion) has no obvious symbolism because it was created to be enigmatic. For those in the know, the three divisions represent the three areas of BDSM (BD, DS, SM). The three outer rings of the emblem represent the three principles that guide BDSM: safe, healthy and consensual.
The practices and dynamics of BDSM
The universe of BDSM is rich in different practices. Due to the vast world of everyones fantasies it is obvious that every topic has its own intensity and depth. To navigate this universe, it is important to understand the main components.
Some of the most common practices involve:
Bondage: This can range from simple handcuffs to elaborate shibari rope art.
Spanking and Impact Play: Devices such as paddles, whips, or canes are used to inflict controlled pain.
Role Play: Partners may take on specific roles, such as teacher-student, brat-tamer, daddy-little, pet-owner, master-slave, to add a narrative dimension to their dynamic.
Sensory games: These include blindfolds, ice, wax, and other elements that heighten the senses.
Degrading: This includes objectification, dollification, bimbofication or also pet play. Everything where a person is "degraded" to a different point.
Humiliation: Everything humiliating to cause someone emotional pain e.g. public display, body modifications or also calling names.
Note: If you want to get a full picture of what is possible in the BDSM world then I would recommend to check out the full BDSM Checklist.
In BDSM there are several things that you should understand:
Discussion of consent and safe words: Central to all BDSM interactions is the concept of explicit consent. This is often settled through extensive discussion and the use of safe words – pre-agreed signals that both partners can use to interrupt or end the scene.
The psychological aspects of power dynamics: In addition to the physical practices, there is the complicated dance of psychological power exchange. The dominant may control the scene, but that control is a gift he receives from his submissive partner.
Different types of relationships and the variety of relationship structures under the umbrella of BDSM:

Dom/Sub: Here there is a dominant partner who runs the scene and a submissive who follows him.
Master/Slave: A more intense dynamic that can extend beyond sexual encounters to everyday life.
Brat/Brat Tamer: A role where the submissive challenges the Dominant and will not always obey.
Swap/Switch: Persons who enjoy both dominant and submissive roles, depending on the context.
and many more from Pet/Owner, to Daddy/Little there is always a power play where one is in control and another one surrenders control

CNC (Consensual Non-Consent) and its place in BDSM: CNC is a special domain that will contradict the first point in the list "Consent". It explores the fantasy of non-consent within a framework of complete consent. It is a complex and controversial area that requires deep trust and clear communication.
The Cultural Fabric of BDSM
BDSM is more than a set of practices; it is a culture with its own norms, values, and communities. Therefore lets now get a little clarification on the most prevalent topics.
The importance of community and learning
BDSM communities provide a space for education, discussion, and sharing of experiences. Workshops and meetings are common, and for many practitioners these gatherings are critical to learning about safety, consent, and techniques. As BDSM also opens the door for abusive behaviour it is usually also advised for beginners to start small, go to local meetups, exhange in online forums and start with an experienced Dom or Master.
Please also see the extensive Safety Guide for BDSM Beginners or the Safety Framworks in BDSM for further information.
BDSM in Media and Entertainment
The portrayal of BDSM in the media is a double-edged sword. Pop culture phenomena like "Fifty Shades of Grey" have brought BDSM into the public eye, but they have also spread misconceptions. There is often debate in the community about the accuracy and implications of these portrayals. Especially the abusive behavior portrait in some media around BDSM can shed a bad light on the rest of the community as the "Consent" is very important.
BDSM and technology: dating apps and online forums.
The Internet has revolutionized the way the BDSM community socializes, shares knowledge, and organizes events. There are countless websites, forums, and apps dedicated to all facets of BDSM. The community is steadily growing and also events like "50 Shades" had an impact on making BDSM.
Fashion and symbolism
From leather and latex to collars and corsets, fashion plays an important role in BDSM culture. These elements can symbolize one's role in the dynamic or simply serve as a form of self-expression. For example the "Collaring" ceremony is something that has a very high value to a lot of BDSM couples and play partners and can be almost as important as a marriage.
BDSM clubs and public events
BDSM clubs and public events provide an environment where people can explore their proclivities in a safe, consensual, and controlled atmosphere. These venues are critical to community building and are often at the forefront of advocating for the rights and acceptance of kinksters. Often they are also the central meeting place for the community but it should be also noted that most regions dont have an active club or community and so kinsters usually drive to the metropolitan areas where there are usually clubs and also events happening regularly. It is also not uncommon that kinksters relocate just in order to get to an active community to feel respected and valued.
Impact on personal relationships and communication
BDSM often requires and cultivates a high level of communication between partners. This communication extends beyond the bedroom and can strengthen trust and intimacy in relationships. Often partners struggle to express their needs and people in vanilla relationships are then prone to cheat on their partners to fulfill their sexual desires.
Navigating Consent and Safety in BDSM
The twin pillars of a healthy BDSM experience are consent and safety. This is why I put here an extra effort on this thing. If you want to read the Safety Guide or about the special kink of "Consensual Non-Consent" (CNC) then please refer to each article. Here I will cover the basics everyone in BDSM should know:
Consent: The Cornerstone of BDSM
Informed and enthusiastic consent is paramount. This means all parties have a clear understanding of what a scene entails and are equally excited to participate.
Consent should be always given under the right circumstances. By blackmailing (can be a kink as well, but not talking about this) someone into a consent, then this is a behavior that is directly influencing and th
Continuous communication before, during, and after scenes ensures that consent remains dynamic and responsive to each participant's state of mind.
Regular check-ins about consent and also the given consents and limits should be made.
Safe Words and Gestures
Safe words (or gestures, for when speech may be hindered) are a non-negotiable part for many in an BDSM interaction. They provide a clear stop signal, respected without question.
Safe words like "Red" (Stop) and "Orange" (Slower) are also used commonly to give the submissive a choice between the intensity or stopping.
Discussion on choosing safe words and the importance of respecting them can underline their critical role in maintaining safety.
in CNC constellations or even in no-safeword BDSM relationships both partners give a meta-consensus to their partner and trust their sole judgement without a stop-word.
Physical Safety and Aftercare
Practices to ensure physical safety, such as learning proper techniques for tying knots or administering impact play, are essential.
If blood play or more serious play is practiced then also other materials like homeostatic solutions or also antiseptic medication should be present.
Aftercare, the process of attending to one another emotionally and physically after a scene, is a practice just as important as the scene itself.
Both partners should at all time always have an eye on the mental and physical safety of everyone involved.
Risk-Aware Consensual Kink (RACK)
RACK emphasizes that while all BDSM activities involve some risk, participants should be fully aware and accept the risks they take.
It can happen that something goes wrong and there could be an injury or anything, but both partners should be aware this can happen.
RACK means not to just ignore when something happens but also openly discuss and find solutions – like a "debriefing"
Safe, Sane, and Consensual (SSC) vs. RACK
The SSC mantra is a more traditional guideline within the community, emphasizing safety and sanity in all BDSM activities.
Comparing SSC with RACK might reveal evolving attitudes within the community about risk and responsibility.
Legal Considerations
BDSM practices can sometimes collide with legal issues, particularly when it comes to consent. Often partners sign contracts to state that they are both aware of the risks. But as these contracts are not legally binding it can become a legal issue for both parties involved but rather a bigger risk for the dominant and sadistic part in the relationship as in most laws around the world this would constitute something illegal to inflict pain, let someone suffer or other practices. It is advised to have at least a statement ready where both partners signed that they are aware and consensual to avoid the worst.
Myths and Misunderstandings
Despite its increasing presence in mainstream culture, BDSM is subject to a plethora of myths and misunderstandings that can distort what it truly encompasses.
Debunking Common Myths
Myth 1: BDSM is inherently abusive. This myth fails to recognize the consensual nature of BDSM and the careful negotiation that precedes it.
Myth 2: People who practice BDSM are psychologically damaged. Studies have shown that BDSM practitioners are as mentally healthy, if not healthier, than their vanilla counterparts.
Myth 3: BDSM is only about pain. While pain can be a component, it is not the focus for all practitioners; for many, the psychological aspects of power exchange are the main draw.
Myth 4: BDSM is always sexual. Not all BDSM activities involve a sexual component; for some, it's about power dynamics or emotional release.
Myth 5: BDSM participants don't desire romantic love. Many BDSM practitioners enjoy loving, long-term relationships where BDSM is an integrated aspect.
Myth 6: Submissives are weak and lack self-respect. Submission is often a powerful choice and can be an expression of strength and personal empowerment.
Myth 7: Everyone in BDSM strictly identifies as either dominant or submissive. The roles in BDSM are fluid; some people are "switches" who enjoy both roles.
Myth 8: BDSM is all about gear and toys. Gear and toys can enhance experiences, but psychological dynamics alone can constitute a BDSM practice.
Myth 9: If you're into BDSM, you must be into fetishism or polyamory. BDSM, fetishism, and polyamory are distinct aspects of sexuality; one doesn't imply the other.
Myth 10: BDSM is just a trendy phase. BDSM has historical roots and is a significant part of personal identity for many, not merely a temporary trend.
Myth 11: BDSM practices are reckless and uncontrolled. BDSM involves meticulous negotiation and clear boundaries, contrary to notions of recklessness.
The Spectrum of BDSM
BDSM is not a monolith; it encompasses a wide range of activities and intensities. For some, it's light bondage or sensual play that barely toes the line of their regular sex lives. For others, it's an all-encompassing dynamic that extends beyond the bedroom into daily life.
The activities within BDSM are as varied as the individuals who practice them. They can include role-playing, restraints, impact play, sensory deprivation, or psychological play, among others.
Emphasizing this spectrum allows individuals to see that BDSM can be adapted to individual comfort levels, desires, and boundaries. It's a personalized experience, not defined by any one practice or intensity level.
The Impact of Misunderstandings on the Community
Misunderstandings about BDSM can have real-world consequences for practitioners, leading to issues such as discrimination in the workplace or social ostracization. Such challenges underscore the need for better public education and awareness.
These misconceptions can also hinder individuals within the community from seeking help when things go wrong due to fear of judgement or not being taken seriously by authorities or healthcare professionals.
The BDSM community often engages in its own forms of advocacy and education to combat these negative stereotypes and promote a more accurate understanding of their practices and philosophies.
BDSM and Consent: Reiterating the Core Principle
It cannot be overstated that consent is the fulcrum upon which all BDSM activities balance. The community's emphasis on negotiation and explicit consent sets a standard that many outside the lifestyle could learn from.
In BDSM, consent is ongoing and can be withdrawn at any time. This fluidity respects the dynamic nature of human comfort and boundaries.
This emphasis on consent does more than just prevent abuse; it creates a framework for open communication and mutual respect, which are cornerstones of any healthy relationship, whether BDSM is involved or not.
Resources for Correct Information
With the proliferation of misinformation online, pointing readers towards reputable resources is crucial. Recommended reading might include works by well-respected figures within the BDSM community, like "The New Topping Book" and "The New Bottoming Book" by Dossie Easton and Janet Hardy.
Websites and forums moderated by experienced BDSM practitioners can be invaluable, offering spaces for discussion, advice, and community support.
Community groups and workshops, often found at local sex-positive shops or community centers, offer real-life engagement and learning. Many areas also have local chapters of larger organizations like The Eulenspiegel Society or the Society of Janus.
BDSM in the Digital Age
The internet has significantly transformed how the BDSM community connects, learns, and shares experiences. Online forums, social media groups, and dedicated platforms have made BDSM more accessible. Digital media has also facilitated a broader representation of BDSM, offering a multitude of perspectives that challenge singular, often erroneous narratives. Popular and notable communities and apps are Sub-Reddit communities (/bdsmadvice /bdsm) but also platforms like Fetlife and Fetish.
Of course the online world has made BDSM more accessible to people who might not have otherwise engaged with the community, including those with disabilities or those living in areas without a physical BDSM community. This has furthered the inclusivity of the scene, allowing for a diverse array of voices and experiences to shape the community. With this digital migration come concerns about privacy and safety. Ensuring personal information is protected is crucial, as is being aware of the potential risks of online interaction. Many BDSM communities have guidelines and educational resources on how to engage safely online, including how to vet potential partners and protect one's identity.
BDSM within the limits of the law
I mentioned it before already that the law can not always be your friend. When you indulge in BDSM, a little legal knowledge is as important as knowing your safe word. While the kink community thrives on the pillars of consent and safety, these same principles can sometimes be misinterpreted – or overlooked altogether – by the legal system.
It is not only wise, but necessary, to know your local laws. Different regions have different thresholds for what constitutes assault, and unfortunately some legal frameworks have not yet evolved to distinguish between consensual BDSM and non-consensual acts. Therefore, it is critical for all members of the community to be aware of the fine line that BDSM can walk in the eyes of the law.
The cornerstone of BDSM – consent – is a nuanced issue in legal discourse. The complexity stems from the fact that legal recognition of consent in the context of BDSM varies around the world. This has led advocacy groups to push for legal reform and fight for recognition of BDSM practices among consenting adults.
Travel can further complicate matters. For the traveling kinkster, it's important to know that your suitcase of toys could cause a stir at customs. Before you pack, take a moment to read up on the regulations for transporting BDSM gear to protect yourself from legal and personal embarrassment. It's not just about discretion, it's also about knowing what's allowed where you're going.
Case law in this area is as varied as the practices of BDSM itself. Some landmark cases have set precedents that have either strengthened the rights of the BDSM community or, unfortunately, highlighted the misconceptions and prejudices that still exist. These legal battles, while often personal, have far-reaching implications for the community as a whole and shape the legal landscape for future practitioners.
In the digital age, resources have become more accessible for those seeking to navigate these legal waters. Organizations such as the National Coalition for Sexual Freedom offer a wealth of information, and there are networks of lawyers who specialize in cases relevant to the BDSM community. These resources are invaluable, not only for education, but also for support if legal issues arise.
The intersection of BDSM and the law is complicated and constantly evolving. For the community, it is a call to action to raise awareness and get involved. For individuals, it is a reminder that while BDSM can be a liberating experience, it must also be accompanied by an understanding of the legal framework that binds our society as tightly as any rope in the clutches of passion.
Summary and Important Takeaways on BDSM
Having explored the dimensions and dynamics of BDSM, it is clear that the culture is as dynamic as it is diverse. The future of BDSM offers opportunities for greater acceptance, evolving practices, and deeper exploration of consensual power exchange relationships. But for everyone it is a journey about his own desires, his own wishes and an exploration of their sexuality. I dont want to miss my journey and I am grateful to have learned so much over the years and seen so many diverse practices and kinks myself. So I really encourage everyone to take the stop and just start with a little BDSM test or a checklist to get started as well.
Here are the most important key takeaways from this article summarized:
BDSM stands for Bondage and Discipline, Dominance and Submission, Sadism and Masochism.
It encompasses a wide range of consensual practices and power exchange relationships.
Consent is the cornerstone; all activities are based on the safe, sane, and consensual (SSC) or risk-aware consensual kink (RACK) principles.
Communication is essential, often formalized through negotiations and safewords.
Practices can include physical restraints, power dynamics, role-playing, impact play, and a variety of other sensory activities.
Aftercare is a critical component, ensuring emotional and physical care post-scene.
The community values privacy and discretion, with many activities taking place in designated spaces like dungeons or at private parties.
BDSM has a rich subculture, complete with its own fashion, language, and social norms.
Education and awareness are growing, with an emphasis on safety and mental health.
The legal landscape regarding BDSM varies by region, influencing how practices are conducted.
There is a growing acceptance and depiction of BDSM in mainstream media and culture.
Technology and innovation are introducing new ways to engage in BDSM activities.
Inclusivity and diversity are increasingly prioritized within the BDSM community.
A final note on self-discovery: BDSM, at its core, is about self-discovery and personal growth. It is a journey that offers a unique path for each individual. As society evolves, so does the understanding that BDSM can be a powerful tool for exploration, connection, and fulfillment. If you are not sure if you are submissive or you want an experienced Dom and Master to apply to, then I am also happy to hear from you.